Clear Mind – Pure Heart: a Meditation, Yoga and Sound Healing Retreat
Experience the Calmness, Serenity, and Deep Peace Within,
Deeply Connected to the Calm Oasis
of Your True Self.
If you clicked on this page I imagine that you might be looking for more calmness and clarity of mind in your life … hopefully in a way that is lasting.
You've probably had experiences when you felt wonderfully peaceful – timeless moments in your fast-paced world when you settled into a deeper serenity inside yourself.
Maybe it was on a summer beach watching the sun go down, during a quiet time after a hard day's work, in a period of reminiscence with a loved one or even in the midst of a spiritual epiphany.
There was lightness to your being. You felt refreshed, relaxed and awake. The present moment of "being here now" was beautiful…
but for some reason it faded.
Some people fall back into one of these reactions to daily stress: the constant monkey mind chatter, the tension in your shoulders, the queasy stomach, the irritability, the worrying and the sense of being on edge, emotional, scattered or being lost in it all.
Maybe you are hoping to turn over a new leaf in a new way …to let go of all the hard stuff from the past months or year and launch yourself with ease into a new way of being?
…to experience the optimism and clarity centred in the calm oasis of your true self?
Well it is entirely possible to get that "light" feeling back and maintain it in your daily routine.
If this speaks to you then maybe you are interested in attending the
Clear Mind / Pure Heart
New Year's Meditation, Yoga and Sound Healing Retreat
January 13-15, 2023 near Orangeville at the Ecology Retreat Center.
In this 2 1/2 day retreat, you will learn the basic essential techniques of meditation distilled from ancient practices and placed in a western context without the dogma or jargon of religious belief.
You will understand how stress manifests in your body becomes a major contributor to most of our modern health problems. You will learn to access the "relaxation response" at will, like a "re-set button" that re-establishes the equilibrium of physical relaxation, emotional calm, and mental alertness. You will experience how the "deep rest" that meditation gives, is an antidote to the constant tension in your life.
By the end of the retreat you will have acquired a daily practice of meditation that when practiced over time, can free you from the constant disabling chatter of the mind and help you access inner serenity, happiness and joy.
"Meditation frees individuals from the tenacious preoccupation with the past and future and allows them to fully experience life's precious moments" Daeja Napier, founder of the Insight Meditation Center, Boston
Features of the retreat:
6 Delicious buffet-style vegetarian meals
Accommodation for 2 nights in a secluded rural retreat centre
Guided meditations that you then do on your own
Yoga and movement periods
Sound therapy
Silent sitting and walking periods
Some paired self-inquiry and meditation training exercises
Instruction on:
The basic techniques of meditation: and their most effective applications
How to elicit the "relaxation response" at will
Simple relaxing yoga and movement instruction.
Crucial preparatory practice often missed in meditation instruction that quickly puts you in the "meditative zone"
How to use breathing to deepen your serenity
Sound "bathing" for healing with gongs, singing bowls, chimes and other instruments
A special "Letting Go" ceremony to clear the stress and disappointments of the past year and start manifesting your new aspirations for the next year.
A Guided Meditation CD that you can use to reinforce your practice at home.
In addition, for an additional cost,.you can book a 1/2 hour 2023 intuitive reading from Monica Piercey from Heart of Unity while at the retreat.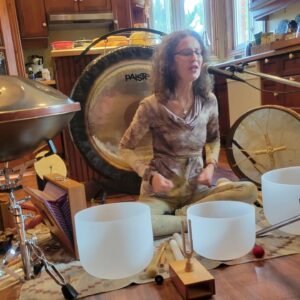 Although subjective results cannot be guaranteed, these are the common experiences people have on the retreat:
Physical relaxation
Emotional calmness
Heightened mental alertness and clarity
Inner happiness not dependent on outer circumstances
Improved concentration
More detachment from "mind chatter" and worry
A deeper connection to your "true being"
An expansion and stabilization of prior spiritual experiences
More balanced energy
A sense of inner wholeness
This retreat will be a fit for you if you:
Would like to be in your life fully and want time to unwind, relax and experience a deeper serenity within.
Are a beginning meditator and want to establish a daily practice of bringing calmness and centeredness into your daily life.
Have an established meditation practice and are open to try some different approaches to meditation and the unique form of paired self-inquiry taught on the retreat.
Are looking to follow a non-dogmatic spiritual path without having to follow a guru.
Yearn to let go of stress from the past and experience optimism and new possibility for the future.
Feel an inner pull to connect more intimately with your true self.
NOTE: The retreat will have an extended silent period and talking will be allowed at some meal and break times on Sunday. There will also be some communication during the paired self-inquiry exercises on Sunday
"Before the retreat I was stressed out, confused, sad, tired feeling far away from myself. Now I have a calm, clearer sense of myself, knowing that I can be who I want to be just because I want to be it and the universe supports me…that is enough. I have a slowness that I was looking for. I feel rooted in my body, healthy and really well rested"
Meera Sethi, Artist, Toronto
Date: January 13-15, 2023 near Orangeville, ON
Location: Ecology Retreat Centre
Tuition includes the Retreat cost plus a choice of two options for Meals and Accommodation.
Retreat cost:
$300 plus hst of $39.00 plus 3 options for accommodation and meal costs below:
1. 6 Meals and 2 nights Accommodation 2-3 per room $345.00 plus hst of $44.85
2. 6 Meals and 2 nights Accommodation in a single room: $385.00 plus hst of $50.00
There is an early enrollment discount of $50 for the 1st 10 people that enroll with a deposit.
3."Pay From The Heart" Those on a limited income can pay for just their meals and accommodation (in 1 or 2 above) in advance and leave a donation to the retreat leaders at the end of the retreat. This is available after an interview with the facilitator.
IMPORTANT: To ensure that the retreat is a fit for you, it is advisable to have a SUITABILITY INTERVIEW with one of the organizers before attending. To schedule this please click on: Retreat
As space is limited we suggest that you register asap with  a deposit of $100.00. (non-refundable within 14 days of the retreat) Register Now with your deposit:
For more Information contact: (519)-829-4149 or e-mail: support@awakentheguruinyou.com
Retreat Leaders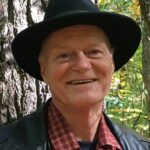 Russell Scott is one of the new generation of "no dogma teachers" and the author of the acclaimed book: "Awakening the Guru in You". He has led over hundreds of retreats for the past 30 years. Previously as the owner of the Ecology Retreat Centre near Orangeville he pioneered programs in green building, sustainable living and spiritual awakening. As an "Awakening guide" he has helped 1000's of people in his one-to-one and group programs break through past limitations so that they can walk in the beauty, honesty and magnificence of who they really are. His greatest joy in life is watching people fall off their seats in fits of laughter when they realize their true nature.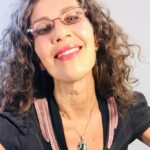 Eva Dametto (aka Barbara) is the founder and director of Breathe True Yoga located in Guelph, Ontario. She is a hatha yoga instructor, expressive arts practitioner, movement facilitator, sound healer and visual and performing artist. She received her chakra yoga 500 hour teacher training in Thailand at the Pyramid Yoga Center in 2016 and 2008. In addition she has received extensive training in Sound Healing, Journey and Soul Motion Dance and Expressive Arts. Her creativity, love of learning and eclectic background all contribute to her unique approach to facilitating and self-expression.